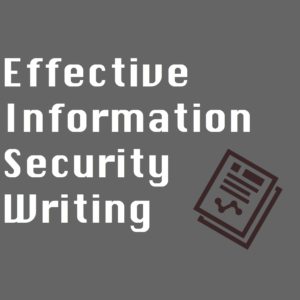 I used to hate writing. I got into security because I wanted to catch bad guys and break into things – not because I like writing reports.
I eventually learned that writing is an important part of every security job, and I embraced it. Fifteen years later, I've written five books and more security reports than I can count. During this time, I learned that effective writing in security is rare, but when done correctly, it's one of the best tools in your arsenal.
Effective writing can be a tool that helps you advance your career, set yourself apart from your peers, get more business, and justify resources you need to make your network secure. What I've learned, however, is that good writing isn't about grammar or the things you learned in fourth grade English. Good writing is about understanding your audience, being persuasive, and using a repeatable system that helps you achieve your goals. Effective Information Security Writing is the only online course dedicated to helping you become better at achieving your goals by using writing as a tool in your arsenal.
Whether you struggle with writing and you're looking for a way to get better at it, or if you're just looking to take your writing to the next level, you'll find it in this course. You'll learn:
My repeatable system for faster, more effective information security writing.
Techniques to bridge the gap between technical and non-technical audiences.
How to tell a story and make your reader empathize with your needs.
The critical components of a penetration testing report and how to write one so that network owners will finally take your findings and recommendations to heart.
How to write compromise reports that aren't boring, and help stakeholders understand the scope of an attack that has occurred.
How to write more effective short-form communication, including e-mails, case notes, and chat messages.
I'll also provide templates I use for writing penetration testing reports, case notes, and compromise reports. You're free to use these as they are, or combine them with your current template. These are templates with a purposeful structure I've refined over many years.
Course Format
The Effective Information Security Writing course is delivered using video lectures that are online and on-demand so you can proceed through it at your convenience. Once registered, you'll be given immediate access and will have that access for six months. The course also includes a discussion forum where you can ask questions and share tips and tricks with other students. The estimated time to complete the course is ~5 hours.
Prerequisites
This course has no prerequisites. It is delivered in English.
Syllabus
* Subject to change as things are added
Module 1: Telling a Story
My system for effective writing
Elements of a story
Theme and plot in security
The process of writing
Module 2: Writing Penetration Testing Reports
Preparing for writing while performing the assessment
Assessment report structure
Describing findings and recommendations
Going to extra mile to deliver value with pen test reports
Module 3: Forensic Writing
A formula for writing case notes
Compromise assessment structure
Malware analysis report structure
Module 4: Most Common Writing Mistakes
Aimless writing and how to recognize it
Zombie words
Common language mistakes
Active vs. Passive voice
Highlighting technical deficiencies without talking down to people
Recognizing and eliminating unnecessary words
Supporting conclusions with evidence
Cost
Effective Information Security Writing is $97 for a single user license. Site licenses are available for organizations that want to train their entire staff (please contact me to discuss payment). A portion of the purchase price will go to support multiple charities including the Rural Technology Fund and others.
You'll receive:
6-month access to course video lectures
Multiple report templates you can start using immediately, without restriction
Access to Chris Sanders online "office hours" held every 7-14 days with 1:1 text/audio/video chat
A Certification of Course Completion
Continuing Education Credits (CPEs/CEUs)