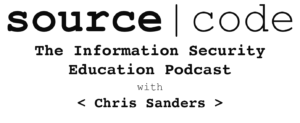 This week, I'm joined by Magen Wu (tottenkoph) of Rapid7 to talk about her career path. We talk about growing up in "God's Waiting Room", how we take our hash browns at Waffle House, speaking at security conferences, and our shared interest of psychology and how it applies to information security.
Listen Now:
You can also subscribe to it using your favorite podcasting platform:
If you like what you hear, I'd sincerely appreciate you subscribing, "liking", or giving a positive review of the podcast on whatever platform you use. If you like what you hear, make sure to let Magen know by tweeting at him @tottenkoph. As always, I love hearing your feedback as well and you can reach me @chrissanders88.