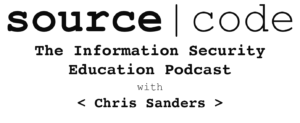 The response for the podcast has been tremendous. Thanks so much to everyone who listened and subscribed!
This week, my good friend Doug Burks joins us. Doug is most widely known for being the creator of the Security Onion Linux distribution that helps you peel back the layers of your network and make your adversaries cry. In this episode we talk about the origin of Security Onion, the reality check in college that helped turn Doug into one of the most disciplined and hard-working people I know, and his part in helping turn Augusta into the information security capital of the south.
Listen Now:
You can also subscribe to it using your favorite podcasting platform:
If you like what you hear, I'd sincerely appreciate you subscribing, "liking", or giving a positive review of the podcast on whatever platform you use. If you like what you hear, make sure to let Doug know by tweeting at him @dougburks. As always, I love hearing your feedback as well and you can reach me @chrissanders88.