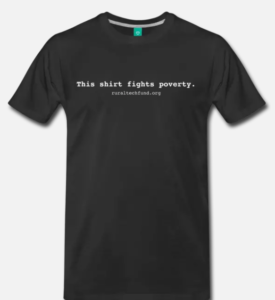 If you're looking for a fun way to support the Rural Technology Fund, we've got shirts now! Our new "This Shirt Fights Poverty" shirt does exactly what the name says. All proceeds from the store go to support computer science education in rural and high-poverty classrooms.
You can grab your shirt here: https://shop.spreadshirt.com/ruraltechfund.
We have plenty of sizes, styles, and colors available.
If you bought a shirt, I'd love to see it! Take a picture and post it to the Rural Tech Fund Facebook page or tag on @RuralTechFund on Twitter!