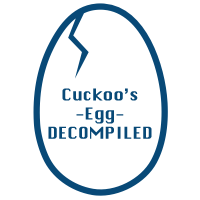 If you've been following along with my blog, you know that I've been teaching a free online course on Thursday evenings for the past few months. I've decided to release those recordings and supplementary material for free.
The Cuckoo's Egg Decompiled is an online course designed to provide an introduction to information security, as told through the lens of Cliff Stoll's "The Cuckoo's Egg" book.
The course was recorded live online from Nov 2017 through Jan 2018. The course videos, slides, and lecture notes are freely available under the terms of the Creative Commons CC BY-NC 4.0 license. That means you are free to use, share, and adapt this content. However, you must give appropriate credit/citations and you may not use it for commercial purposes. However, if you are a college professor or high school teacher you may adapt it for your classes.