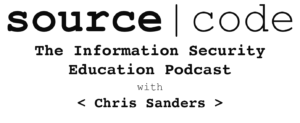 I'm joined by Gwen Betts for the final episode of this season. She is a UX director at Rapid7 via the acquisition of her previous company, Komand. She provides a unique perspective as someone who started in design and would later bring that expertise to security. We talked about her design principles and what makes good UX. We also discussed how security professionals can most effectively engage with UX and areas of the infosec space that are ripe for UX innovation.
Gwen chose to support Resilient Coders of Boston with her appearance. The organization provides technology career education with a focus on diversity.
Listen Now:
You can also subscribe to it using your favorite podcasting platform:
If you like what you hear, I'd sincerely appreciate you subscribing, "liking", or giving a positive review of the podcast on whatever platform you use. As always, I love hearing your feedback as well and you can reach me @chrissanders88. You can reach Gwen Betts on Twitter at @gwennasaurus.
Special thanks to our title sponsor, Ninja Jobs!