I'm an avid reader and go to extra effort to take notes about things I find interesting. This allows me to review them periodically and helps with retention and synthesis. As part of this, I like to reflect on the best things I've read over the course of the year and I'd like to share some of those with you. You'll notice that none of these are explicitly tech-related as I don't find myself reading many tech books cover-to-cover anymore.
The New Geography of Jobs
by Enrico Moretti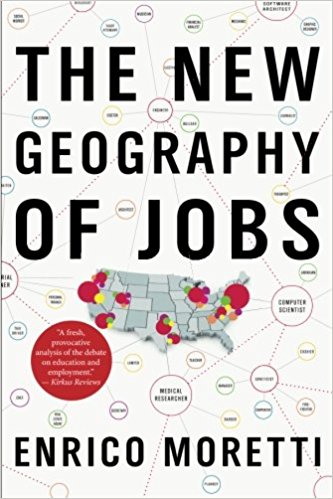 Enrico Moretti's book is a combination of history and economics that describes something he calls the "Great Divergence" where we've seen most innovation sector jobs concentrate in urban areas. When the internet started becoming ubiquitous, we all thought it might mean the end of geographic workforce concentrations because these jobs can be worked from anywhere. For a number of reasons, this hasn't been the case and jobs are still increasingly geo-centric. The great divergence is the gap that exists between urban and rural areas in terms of jobs, education, and income.
Moretti traces the history of post-WW2 America as a rising manufacturing state, the eventual disappearance of manufacturing jobs, and the rise of tech jobs that are mostly urban-centric. The book packs in a lot of macroeconomics without feeling like you're reading a textbook. The writing is compelling and I found Moretti has an excellent ability to put complex concepts into simple turns of phrase.
This divide—I will call it the Great Divergence—has its origins in the 1980s, when American cities started to be increasingly defined by their residents' levels of education. Cities with many college-educated workers started attracting even more, and cities with a less educated workforce started losing ground.

I left The New Geography of Jobs feeling much better equipped to discuss jobs in America, the cause of the divergence between urban tech hubs and rural communities, and the effects of poverty on mobility.
If you were to look at my digital copy, you'd find it's covered with highlights and notes. I find myself quoting this book a lot when I speak to people about the Rural Technology Fund and the work we're doing. If you want to understand the current state of jobs in the US, this is the book I'd recommend starting with.
---
Lincoln
by David Herbert Donald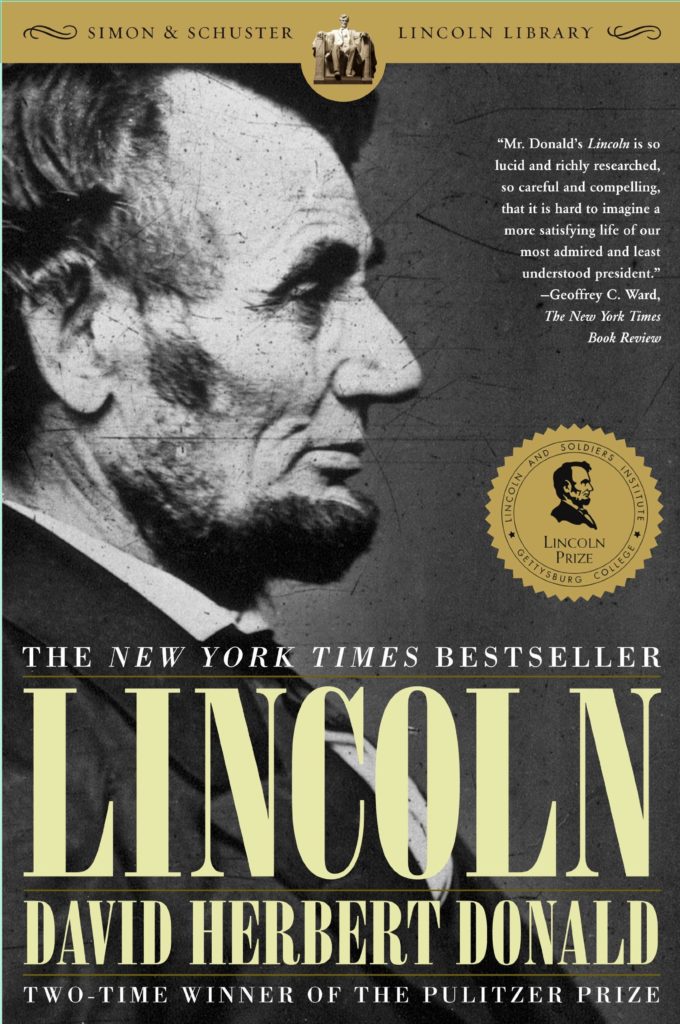 I've always admired the presidency of Abraham Lincoln for all the obvious reasons, but also because he was born just a couple hours east of my hometown in Kentucky. He also came from humble, rural upbringing. I specifically wanted to learn more about Lincoln's younger years and how his views on topics like slavery evolved.

If you search for lists of the best Lincoln biographies, Donald's 800-page tome appears on most of them. While lengthy, it's written in a very engaging way. Even though I knew the ending, I was drawn into the story immediately and couldn't put it down. Donald details the entirety of Lincoln's life from birth to death. Most of what we know about Lincoln comes from his actions, his diaries, and his communication with others. The author does a stellar job highlighting where we can draw lines between what we know and what we can infer, of which that line might not otherwise be clear.
Of everything I read, the most interesting story that sticks with me occurs when the north is close to winning the war. The Union Army has captured Richmond and Lincoln is touring it, when the following exchange occurs…
Then Lincoln asked the surprised band director to play Dixie. "That tune is now Federal property", he announced, and it's "good to show the rebels that, with us in power, they will be free to hear it again."
While most of us know Lincoln as a forward-looking, master politician who preserved the state of the union and ended slavery, this book does a great job highlighting his challenges too. Particularly, his struggles with his own spirituality, strife within his cabinet, insubordination from his military leaders, and the tragedy of losing his mother, first love, and young son. Lincoln had the weight of the world on his shoulders and he didn't fold. Lincoln will teach you why.
---
Lincoln in the Bardo
by George Saunders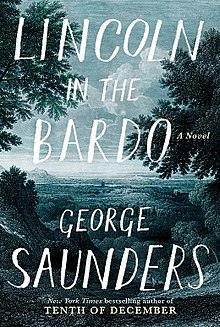 While finishing up the Lincoln biography, someone recommended Lincoln in the Bardo. This book is very different; a work of fiction based on historical events. It takes place as a series of dialogue between ghosts in purgatory. At the beginning of the book, Lincoln's son Willie (who died in real life during his first term in office), shows up in Purgatory. The ghosts observe Lincoln from the other side and provide their commentary as he struggles to overcome his grief while trying to hold the nation together.
So the president left his boy in a loaned tomb and went back to work for the country.
The book is unlike much I've read in style and format and may be a bit tricky to grasp at first. I'll admit I had to stop a few chapters in and read summary notes to piece everything together fully and move forward. I'm glad I did that and stuck with it though, as I was left in awe once finished. While fiction, this book helped me further appreciate the work of Lincoln.
---
Educated: A Memoir
by Tara Westover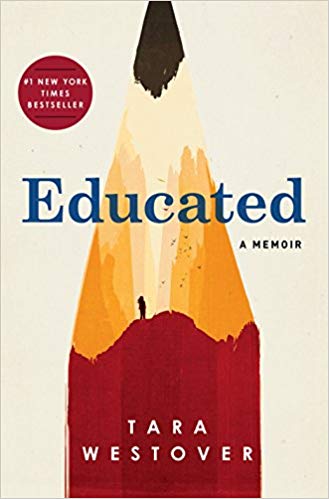 Tara Westover grew up in rural Idaho in relative seclusion. Her parents were strict Mormon's, and her father was opposed to public education, so she never set foot in a classroom until much later in life. That's why it's quite surprising to find out that she would eventually graduate magna cum laude from Brigham Young, win the Gates Cambridge Scholarship, and earn a Ph.D.

Educated is Westover's memoir and details her life growing up under atypical cirumstances. The characters in her story include her father, the strict preacher-like figure who ran a scrapyard, her mother, an herbalist who had to maintain a tricky balance between her husband's strict rules and her children's desire to explore, and her siblings, each with their own complex relationships.
"My life was narrated for me by others. Their voices were forceful, emphatic, absolute. It had never occurred to me that my voice might be as strong as theirs."
Educated tells a story that almost seems like it's part of a Netflix mini-series, which makes it all the more compelling as a true tale that the author lived through. Tara's story includes family tragedy, physical and mental abuse, and the constant push and pull between her and the other family members as their traditional faith conflicted with the modern world.
I can't say that I fully relate to Tara's story, but there were parts of it that really punched me in the gut and certainly made me think about my upbringing. While the story has a mostly happy ending, there is plenty left unresolved and messy. That's how you know it's real.
---
Bad Blood: Secrets and Lies in a Silicon Valley Startup
By John Carreyrou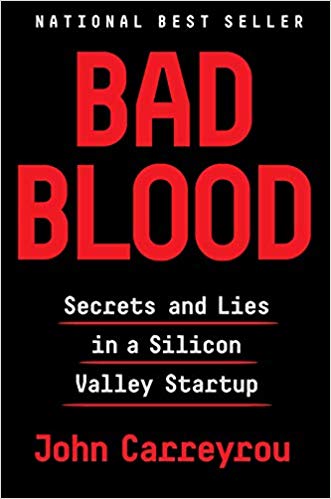 Bad Blood is the true story of Theranos, a biomedical startup that you may have read about in the news, and it's founder Elizabeth Holmes. Theranos claimed to have technology that would allow it to conduct complex blood tests much faster and more cost-effective than anything on the market. They brought in hundreds of millions of dollars of VC money, partnered with several pharmaceutical and retail giants, and garnered fanfare from business and industry titans like the Walton's and Rupert Murdoch.
There was one problem, though. The technology never worked. They oversold the capabilities of the product hoping their R&D would eventually catch up to their promises, but it never did. The delays and exagerations eventually turned into lies and deception while Holmes and her legal team would do anything it took to keep Theranos afloat and silence the detractors.
"Elizabeth told the gathered employees that she was building a religion. If there were any among them who didn't believe, they should leave."
"Hyping your product to get funding while concealing your true progress and hoping that reality will eventually catch up to the hype continues to be tolerated in the tech industry."
I don't know a lot about biomed, but the story reminds me of the path many tech-based startups traverse. They get a great idea and start selling it before they've actually been able to manifest a usable product. There aren't too many steps between what Theranos did and what I see a lot of tech companies do, it's just that Theranos' claims were bolder and their legal team more aggressive in silencing those who knew better.
Bad Blood paints a dark picture of entities that exist in business and Silicon Valley. Written by the invsestgiative journalist who cracked the story, this is a must read for anyone working in and around startup tech.
---
Enlightenment Now
By Steven Pinker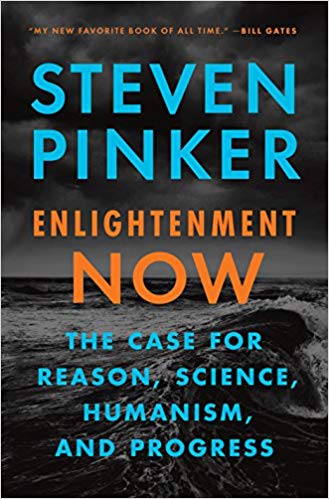 Enlightenment Now is probably one of the most important books I've had the pleasure to read. In a world where everyone thinks things have never been worse, the truth is the world is significantly better than it's ever been when you look through the context of history. This book does that.

Pinker is one of my favorite writers in how he researches and asserts facts based on evidence — and he actually cites that evidence. In this book, he uses enlightenment principles to frame the historical and present context of topics including: life expectancy, health, wealth, inequality, peace, terrorism, safety, democracy, equal rights, and happiness.
The Enlightenment principle that we can apply reason and sympathy to enhance human flourishing may seem obvious, trite, old-fashioned. I wrote this book because I have come to realize that it is not. More than ever, the ideals of reason, science, humanism, and progress need a wholehearted defense.

We will never have a perfect world, and it would be dangerous to seek one. But there is no limit to the betterments we can attain if we continue to apply knowledge to enhance human flourishing
There is no question we live in a challenging time and I get down on the current state of affairs frequently, but this book and its contents are something I continue to go back to. As bad as some things are, most of them are getting better. We have unique challenges to solve, many of which probably won't be solved in my lifetime. The case for humanity is found in a study of broader trends and history. Most of the struggles we face are merely blips in the context of history. Those blips might span several generations, but the trend is towards an overwhelming positive.
---
The Blue Sweater
By Jaqueline Novogratz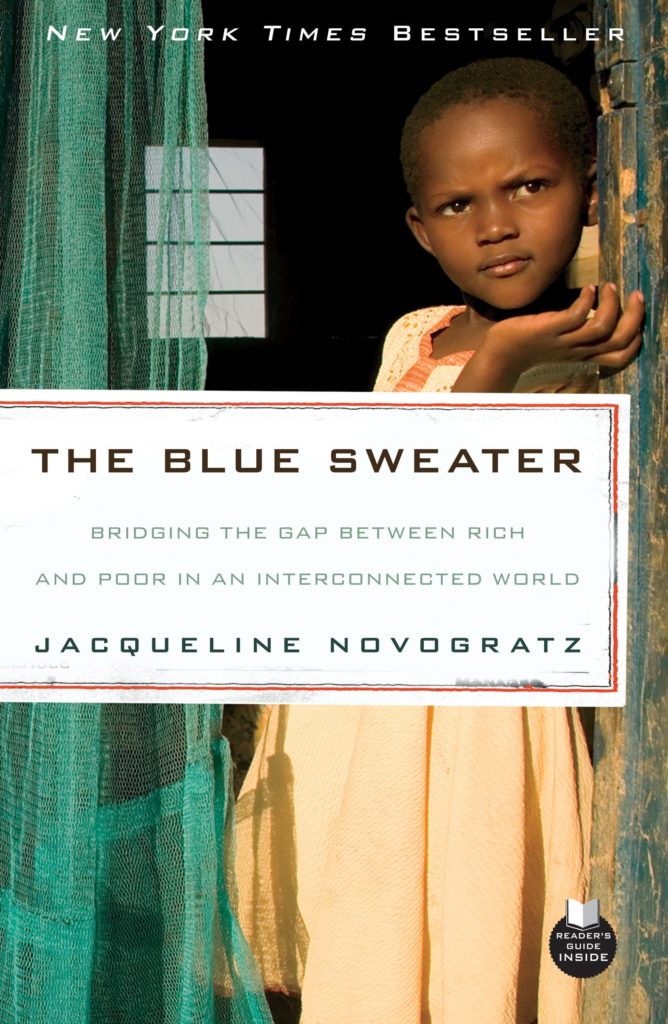 The Blue Sweater is an autobiography whose title derives from a unique experience of the author. As a child, she donated a blue sweater to a charitable organization in the US. Years later while working in Africa, she encountered a child wearing they very same blue sweat she donated. Not one like it, her exact sweater.

Novogratz is a philanthropist specializing in microfinance. Her organization, Acumen Fund, provides small loans to entrepreneurs in third-world countries to help individuals and small communities achieve financial security and distance themselves from real poverty. This is a unique form of philanthropy aimed towards long-term success rather than traditional hand-outs that often serve as temporary band-aids.
The Blue Sweater tells Novogratz story as a young volunteer and caseworker, primarily in Africa. You journey with her as she learns the pitfalls of traditional philanthropy and the value of instilling purpose within the people she was trying to help. She faces significant challenge as a white American in Africa while trying to gain the trust of the people she's trying to help, figuring out how to truly help them in the long-term, and how to navigate her own privilege.
Today's world needs more than humanitarians. We need individuals who know how to listen and who have real and tangible skills to share. We will succeed only if we fuse a very hardheaded analysis with an equally soft heart.

I was particularly drawn to the story about an African bakery staffed entirely by women. The entire enterprise was poorly run and depended exclusively on outside donation to sustain. Novogratz was able to work with the group of women to streamline their operations and expand their customer base. Eventually, they became self-sufficient and were able to expand and provide more jobs to more women.
Something unexpected from the book was the portion where Novogratz time in Africa intersects around the Rwandan genocide. She provides unique perspective, as many people she had worked with in her philanthropic efforts were eventually forced to take sides…and not always the side you might expect.
Philanthropy is a complex topic and even if you have the ability and means to help others, the difficult part is usually how to do it effectively and sustainably. The Blue Sweater brought me a new perspective on these challenges through a compelling story.
---
Kitchen Confidential
by Anthony Bourdain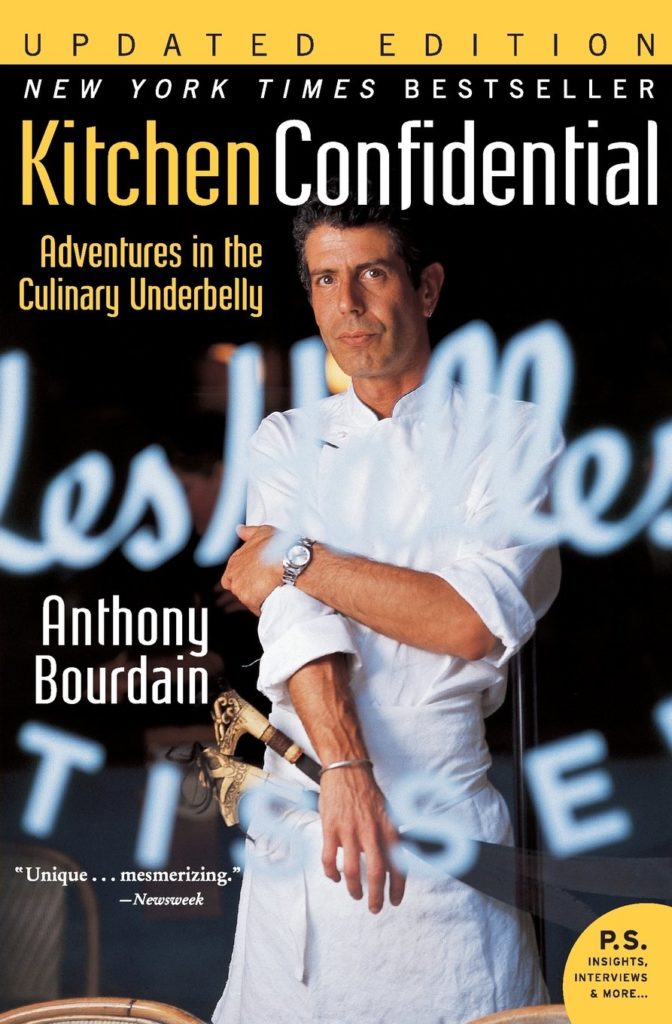 If I'm honest, I always thought Anthony Bourdain was a jerk and never watched much of his shows on TV. After he passed, a lot of chefs I like said a lot of nice things about him, and I thought there might be some perspective I was missing. I found it in his first book, Kitchen Confidential, which is Bourdain's life story from birth to executive chef, stopping before he became a famous television personality.

Bourdain's story helped humanize him for me. While I still think he was mostly a jerk, I learned about how much of a fighter he had been for the often forgotten parts of a kitchen. His book isn't about the star chef's he worked with. As a matter of fact, many of them aren't even mentioned. He focuses almost exclusively on the immigrant cooks, under-appreciated table bussers, and overworked dish washers who are responsible for the complex organism that is a modern fine dining kitchen.
"No one understands and appreciates the American Dream of hard work leading to material rewards better than a non-American."
"I've long believed that good food, good eating, is all about risk. Whether we're talking about unpasteurized Stilton, raw oysters or working for organized crime 'associates,' food, for me, has always been an adventure"
Knowing how Bourdain died, Kitchen Confidential is haunting. He had issues with drugs as a young man that continued to be a part of his life from then on. While he achieved status as one of the best chef's and food show hosts in the world, he couldn't outrun his addiction. It's a tragedy.
If you liked Bourdain's shows, have an interest in how professional kitchens work, or just want to learn which day of the week you should avoid eating fresh fish at a restaurant (spoiler: Monday), then I think you'll enjoy this book. Word of warning though, it's raw and unfiltered so be prepared if that might upset your sensibilities.
---
Hybrid Woodworking
by Mark Spagnolo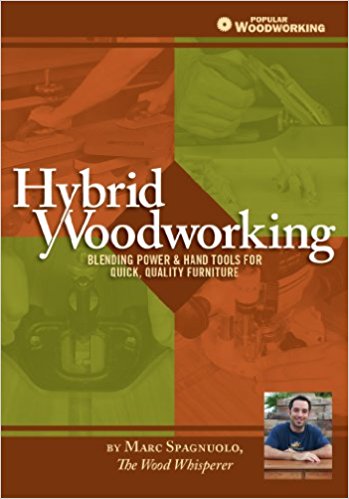 Last year I really discovered how much I love creating things with wood. I used to help my Dad do odd jobs like building decks and pole barns, but I had never really spent time focused on fine woodworking until somewhat recently. This year I invested in some new tools and used them to build a lot of things. Along the way, I discovered a few woodworkers whose tutorials and writing I really like, including Steve Ramsey and Mark Spagnolo. I've bought a few of Mark's project plans and was really excited to pick up a copy of this book.
Mark practices a style called Hybrid Woodworking, for which the book is named. The concept is simple — use power tools for the heavy work, but learn how to use various hand tool techniques for refinement and detail. I love the approach and used his book to learn some interesting techniques and to pick out and purchase my first hand plane (a small Lie-Nielsen block plane).
Mark's book really helped me take some of my woodworking to the next level, although I've got a lot more levels to go. If you're brand new to woodworking I'd probably start with Steve Ramsey's YouTube videos, but eventually find your way over to Mark's work and you'll be happy you did.
---
11/22/63
by Steven King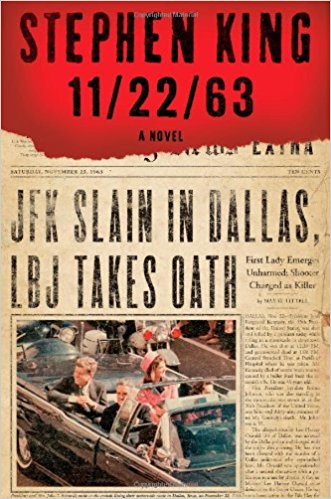 Believe it or not, I do occasionally read fiction. While I don't read a lot of the horror genre, I'm a Stephen King fan and 11/22/63 is one of his best works. The book is based around the main character who discovers a way to go back in time. The rules are pretty strict though, you always go back to the same point (the late 50's) and when you come back, only two minutes have passed. If you choose to re-enter the time warp, everything you did on your last trip resets.
The premise sounds a little cheesy, but it sets up very quickly and really works. Early on, the main character gets convinced that the primary goal for his new found discovery should be to go back in time and wait a few years until he can ascertain for certain who killed JFK so that he can prevent it from happening in hopes of preventing a massive negative chain of events that eventually led to Vietnam. Along the way, you encounter several other moral crises, love stories, and a few amazing throwbacks to other Stephen King novels. 
11/22/63 isn't your typical scary Stephen King book; it's more of a psychological thriller. It's a long read, but I couldn't recommend it more.
Next Year
I expect next year that I'll continue reading other perspectives on many of the same topics: rural economics, poverty, rural-based memoirs, philanthropy, psychology, history, and woodworking. I also expect to read more books devoted to education theory and curriculum as a part of my doctoral work. Since I also have my first child on the way I've got a few evidence-based parenting and child psych books queued up, too.
What did you read this year that you absolutely loved? I'd love to hear about it in the comments.